Vibrant Wines from Organic Grapes
We could bore you with a long story. If we did, it would be a romantic one telling you how we met working harvest and made out behind the press, or how we dreamed of someday making California wines we could be proud of and passionate about. But we won't do that. We also won't tell you long stories about our organic vineyard sources, our abundance of judicious winemaking decisions in the cellar, or our love of varieties from the Rhone.
Instead, we'll tell you that we probably have a lot in common. We're betting that you like good music, cooking in cast iron, a tattoo here and there, a great cup of coffee and a well balanced and thoughtfully crafted bottle. Or two. You're probably the kind of person that cares more about how you got there rather than how long it took.
We're that Sunday morning, bathrobe dancing to Rufus and Wax Tailor kind of feeling. That chocolate chip cookie and orange juice vibe. You know how it feels the first time you jump into bed after you've just put fresh sheets on, crisp but cozy? Or when you sink into a deep warm bath? Our wines taste like that!
We'll let the bottles speak for themselves. We love farming them, making them, and drinking them and we're guessing you will too. If you want to know more check out our tech sheets, that's where all the nerdy stuff lives. If you'd like to ask us a question, feel free to reach out. Until then.
Cheers,
Caroline and Blair Guthrie, owners and winemakers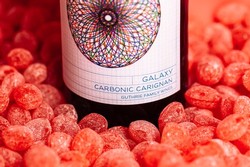 Drink Small
Sadly, the wine industry today is run by large corporate wine companies who use unnecessary ingredients in their winemaking, synthetic pesticides and herbicides in the vineyard, and consistently put their profits before the integrity of the wine. By supporting small brands, you are supporting families, the fight for sustainability, and security within the industry for future small businesses.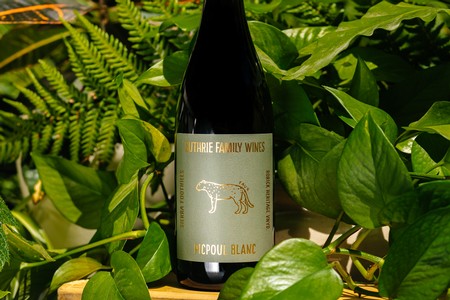 Minimalist Wine
Not only do we strictly crush organically grown grapes and process them with few ingredients, but our wines are also Vegan and Gluten free and never have unnecessary added grape concentrates. We then use minimal effective sulfites as a anti-oxidizer, ensuring our wines are fresh and bright while still made within our standards of winemaking.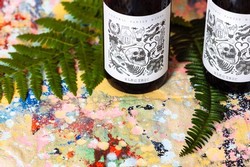 The Flavor
We ferment with whole cluster grapes giving our wines a beautiful, bright flavor with earthy undertones. We want our wines to be fun and drinkable, so you won't find any residual sugar, high alcohol or overbearing oak here! But what you will find is depth, layers, and complexity.
We want them to be fresh and pure so you can party all night!
Get the latest!
Sign Up For Our Mailing List
Keep up to date on the latest wine releases, and promotions and get 10% off your next order.